One of the legacies of Moore's law is that it created a dominant model for computing based on a general-purpose architecture first proposed by John von Neumann in 1945. Modern machines today are still based on the von Neumann architecture — a remarkable and enduring feat for an industry that is used to so much change and disruption.
There were many attempts to break out of the von Neumann mold. Cray computers pioneered vector-processing based supercomputers that were well suited for numerically intensive applications such as weather forecasting and scientific simulations. Thinking Machines Corporation, a startup out of the MIT Media Lab, came to market with the Connection Machine — a computer based on a radical architecture modeled after the human brain. There were other notable attempts around Dataflow architectures that didn't make it past academic projects.
All these ideas failed because of Moore's law. Moore's law put conventional microprocessors on a trajectory of exponential growth making it impossible for alternative designs to compete on equal footing. Even the most promising new designs quickly found their advantage erased as microprocessors got better at a faster rate. Great new technical designs were no match for the economics of mass production and commoditization.
By the mid-1990s, even the world's fastest supercomputers were assembled from commodity microprocessors. This came to be known as "the attack of the killer micros" (based on a talk by Eugene Brooks of Lawrence Livermore Labs).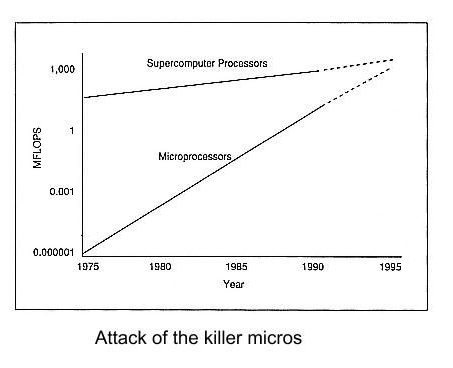 Eventually, everyone just gave up and a whole generation of engineers came to believe in the infallibility of Moore's law. Computer architects shifted their focus to micro-architecture optimizations, further reinforcing the status-quo. Exploration of new ideas gave way to the exploitation of Moore's law. No company exemplified this mindset more than Intel — the entire company on a mission to keep the Moore's law gravy train running smoothly and on time.
The real tragedy of Moore's law is that it bred a homogeneity in design, promoting inside-the-box thinking and rewarding good engineering more than great design.
With Moore's law now history, we are back to exploration. How do we continue to make progress building ever faster and cheaper machines? A good starting point would be to study the failed computing designs of the past (of which there are many). Like the Renaissance artists who rediscovered the classics, the next generation of computer architects and programmers will have to draw inspiration from old ideas.
Nowhere is the need for a new architecture more apparent than in machine learning where the growing computational needs are exposing the limits of current microprocessors that aren't getting any faster.